A recent study has revealed a direct link between regular canola oil consumption and a decrease in working memory. This is just another reason to add to the list why you should completely eliminate canola oil from your diet. Canola oil has also been linked to cardiovascular problems, heart lesions, and a myriad of other health problems.
The researchers performing the study concluded that canola oil can increase the build-up of plaque in the brain, which is of course correlated with brain degenerative diseases like Alzheimer's and Dementia.  They also performed several maze tests and found that the rats consuming canola oil had decreased memory function.  In addition they also found that regular consumption of canola oil led to a significant increase in body weight.
Unfortunately in the past few decades in the US and in a few other countries, canola oil has been pushed as a "healthy" oil and a suitable substitute for olive oil when it comes to cooking. This and the fact that it is one of the cheapest oils on the market has led to its gigantic rise in popularity amongst restaurants, food producers, and for many unsuspecting consumers. Could there be a correlation with the significant rise in Alzheimer's and Dementia in the US and Japan (another place canola oil is prominent) over the recent decades?
But what exactly is a canola anyways? We know where peanut oil and olive oil and coconut oil comes from.. But what creates canola oil?
"Canola" is a synthesis of the words "Canadian Oil" because the oil is primarily engineered in Canada. Canola oil is derived from the rapeseed plant. Rapeseed is a fast-growing succulent with very high yield and the ability to survive cold conditions. Additionally insects don't go for it because they know it is toxic. In fact, rape oil is a great insecticide. If you have traveled to Europe and have seen huge fields of yellow flowers you were likely looking at rapeseed flowers.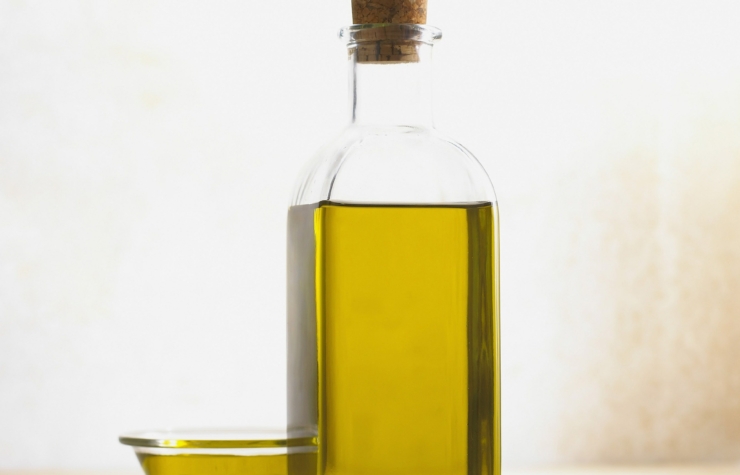 Rapeseed is very high in erucic acid which is known to have harmful effects on humans, animals, and insects. The effects of erucic oil found in various animals, both young and adult, include cardiac lipidosis, myocardial necrosis, anemia, hydrapericardium, ascites, hepatic fibrosls and myocardial granulomas; (Summary of research from Cardiac Lesions in Rats Fed Rapeseed Oils_, Charleton K. M. et al., Can. J. Comp. Med., 39: July, 1975: p.261-269.) It has also been found to cause lesions in the heart, raise cholesterol, and have other negative impacts on the brain and heart.
The FDA has put a limit on how much erucic acid content is legal for food products for consumption in the US at 2% for adults and not suitable for infants. If infants consume erucic acid it can be very dangerous. Even though they claim it is safe at that amount for adults, erucic acid is still toxic (hence why the bugs don't touch it either!). So why take any chances if you have wonderful, healthy alternatives?
(Other side effects of rapeseed include loss of vision, disruption of the central nervous system, respiratory illness, constipation, anemia, increased incidence of heart disease and cancer, low birth weights in infants, and irritability.)
So to deal with the high concentration of erucic acid the creators of the oil modified the rapeseed plant to lower the erucic acid content and instead added oleic acid. While oleic acid can be quite healthful from the right food sources (avocados and olive oil for example), there are  health concerns associated with this acid as well such as:
-retarding growth (which is why it is banned in infant formulas),
-Abnormalities in blood platelets
-Damage from free radicals
-Increased risk in developing certain types of cancer
In addition to thhe erucic acid and oleic acid concerns:
"Canola oil is associated with fibrotic lesions of the heart. It also causes vitamin E deficiency, undesirable changes in the blood platelets and shortened life-span in stroke-prone rats when it was the only oil in the animals' diet." 
There are many other health issues connected with canola oil. This blog is meant as an introduction to this issue so please go do your own research! But be wary of the false research and studies out there that indicate canola oil is totally healthy for you. The canola oil industry is a multi-billion dollar industry and they have a vested interest in making sure it is "healthy." In fact, "the Canadian government and Canola industry paid the FDA $50 milllion to obtain GRAS (generally regarded as safe) status." This is the requirement that ingredients must pass to be sold in food products in the USA.
Use organic olive oil, sesame oil, or peanut oil for cooking instead.
Ellwood Thompson's proudly serves a canola-oil free hot bar and salad bar.
Here is the study: https://www.nature.com/articles/s41598-017-17373-3
Here are some other places to get started with your research:
https://www.healthnutnews.com/cooking-canola-releases-toxic-cancer-causing-chemicals-type-oil/
https://www.nature.com/articles/s41598-017-17373-3
http://wisemindhealthybody.com/naturalnews/canola-oil-study-reveals-detrimental-brain-health/
https://www.institutefornaturalhealing.com/2017/12/healthy-oil-linked-alzheimers/
https://www.huffingtonpost.com/entry/what-is-canola_us_58d13dfde4b0be71dcf81b08
https://www.nongmoproject.org/high-risk/canola/
~Nick