Providing opportunity to all members of our community is an important mission value at Ellwood Thompson's.  One demonstration of that value is ET's participation in the Virginia Rehabilitation Center for the Blind and Visually Impaired LIFE program.
The LIFE program (Learning  Independence, Feeling Empowered) is a 5-week residential training program for high school-aged blind and vision impaired youth. The LIFE program offers its participants training in a variety of life skills especially focused on blindness skills (travel, braille, access technology, and cooking). The highlight of the program is when students work part-time in a community-based setting during the last three weeks.
Ellwood Thompson's is proud to have offered part-time work and training to LIFE program interns. These interns to work for ET for 13 business days for 3 hours per day. They did a variety of activities such as working at customer service answering and directing phone calls throughout the store.  17 employees at ET participated with the interns in giving them valuable work training and development.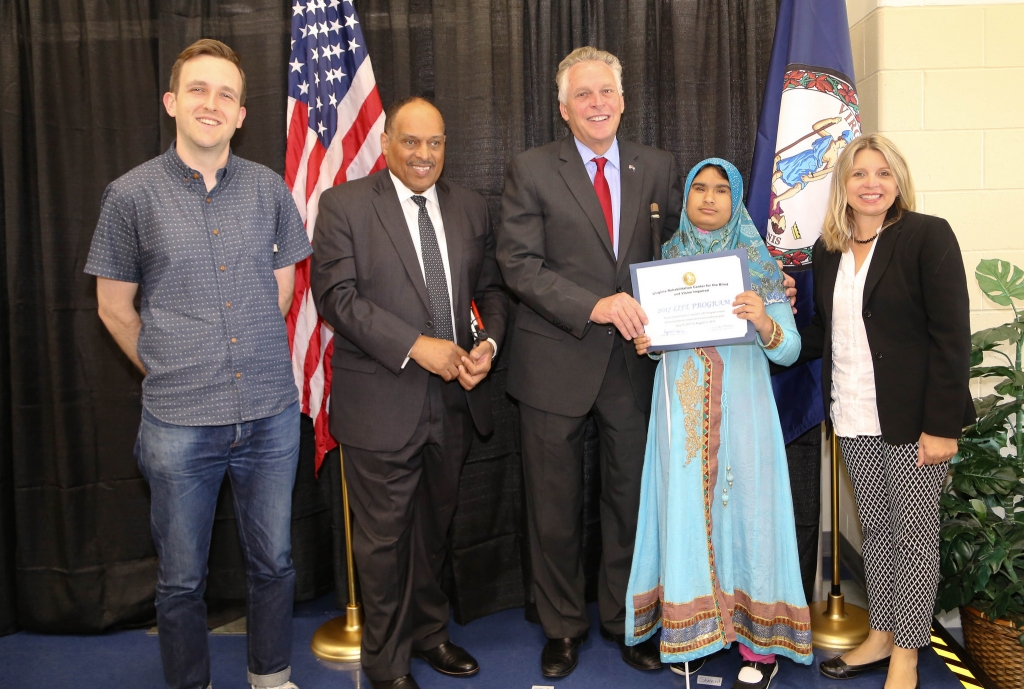 A highlight for ET employees was the LIFE program graduation which the Governor Terry McAuliffe attended and thanked them for their contributions to the Commonwealth of Virginia.  The photo shows the Governor and Isaac and Laurie from ET participating in the graduation ceremony with students from the LIFE program.
At Ellwood Thompson's the word "community" is inclusive and sometimes it takes a few extra steps to bring all into our community.  But as you can see from just one photo, those steps are worth it.
For more information about the LIFE program go to:  https://www.vrcbvi.org/YSprograms.htm
Perhaps you work in a business or company that will make a difference for more students in this program?